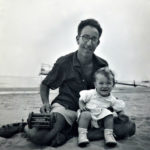 Are you a father in a heterosexual dual-parent household in the UK who is the primary carer or who shares care equally with your partner for a child aged three or under?
We are carrying out research at the University of Surrey on the experiences of fathers who take on primary or equal caring responsibility for young children.
We are particularly interested in those whose caring responsibilities connect to changes to work (whether voluntary or enforced), such as periods of extended parental leave, adjusted hours, working flexibly or part-time, changing job or becoming unemployed. However, we also hope to speak to those taking on primary or equal care responsibilities alongside existing full-time work.
If you think you, your partner, or someone you know might come into this category and would be willing to take part in an interview with us, please contact us at p.hodkinson@surrey.ac.uk to find out more. The identity of participants will be kept confidential.
Rachel Brooks and Paul Hodkinson, Department of Sociology, University of Surrey